Listing statuses:
The listing's connection status can be one of the the following :
Listing status: Live in channel
Your request has been approved by Google and is ready to be published. However, this status does not necessarily mean the listing is published on the channel. Please contact the channel's customer support to learn more.
Listing status: Pending
Your request has been sent to Google and is being reviewed for approval. It may take up to 20 days for a pending listing to be reviewed. If the listing is still pending after 20 days, channel prerequisites or listing limitations may not have been met. 
Listing status: Failed
Your request hasn't been approved. See below what you can do.
Basic troubleshooting
Check if your listings are live on Google
Please allow up to three weeks after publishing your listings for them to become live on Google. After three weeks, follow the instructions below to search for your listings on Google.
In your browser, navigate to Google Travel.
Click Vacation rentals.
Use the search bar to search for the city/neighborhood/ area in which your listing is located.
Use the map to zoom in on the property's location.
If you are not able to find the listing, contact us.
Learning more about the listing's status
To learn more about your listing's connection status, access the Google Vacation Rentals integration page. Next to the relevant listing's row, hover over the relevant status. 
In the case of "Pending" status, hover over the status to retrieve the date when the listing is expected to be connected or to view further information (see screenshot below). For "Failed" listings, click on "Learn more" to know how to resolve the issue.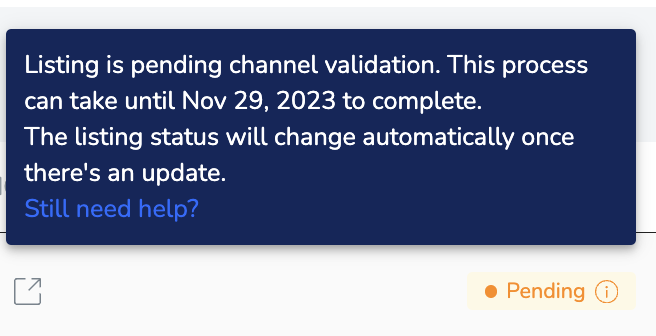 There are three failed listing scenarios for Google:
Your listing was not approved by Guesty to be sent to Google. You can see the failure reason in the listings dashboard and fix it as needed. Some possible reasons we may not validate your listing are that there is a missing title, a missing public description, or it does not have enough photos. 
Your listing has been rejected by the channel because it was illegible or has been in status pending for more than 30 days. Guesty will provide the information as to why your listing has been rejected.
Unidentified error- please contact us. (WIP)