We are excited to introduce the all-new home page, tailored specifically for Operation-level users. This intuitive platform serves as the hub where you can seamlessly anticipate and manage day-to-day activities, not just for today but for the entire upcoming week. Let's delve into the extensive capabilities of this innovative feature: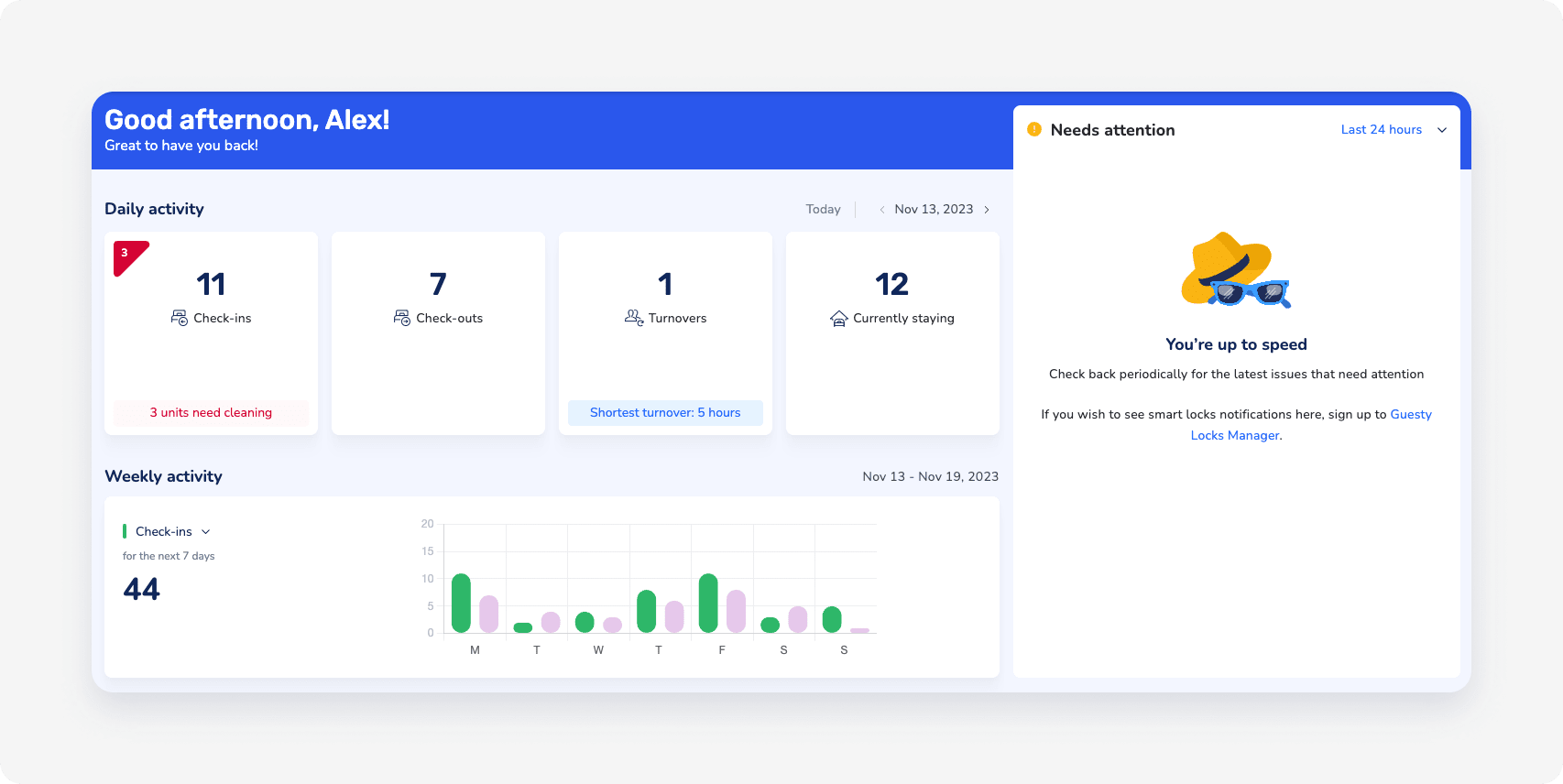 Reservations widgets
Stay on top of your game with real-time reservation data. Get instant insights into upcoming reservations, enabling proactive planning and resource allocation.
Check-ins and checkouts
Monitor check-ins and checkouts scheduled for the day, ensuring a smooth transition for guests arriving and departing.
Turnovers of the day
Calculate turnovers efficiently by tracking the number of checkouts and check-ins on the same property on any given day.
Guests staying today
Quickly identify and manage guests staying on a specific day, streamlining communication and guest services. When setting the dates to the future, you will see guests who will be staying once all checkouts and check-ins are carried on for that date.
Reservation insights
Dive deep into reservation details with the ability to access reservation pages and relevant property information. View additional data such as unconfirmed reservations and property cleaning statuses, empowering you with comprehensive guest management tools.
Weekly check-in/out trends
Visualize upcoming week check-in and checkout patterns through the interactive graph. Stay ahead by understanding occupancy trends and planning accordingly.
Needs attention section
Stay alert with a dedicated section highlighting crucial areas that require your attention.
Failed payments: Instantly toggle between the last 24/72 hours to address failed payment issues promptly. Access guest names, time elapsed since the issue, transaction amounts, and relevant reservation payout pages for swift resolution.
Canceled reservations: Identify canceled reservations and access guest details and relevant reservation pages to manage cancellations effectively.
Same-day reservations: For same-day check-ins, view guest names and access reservation pages directly, ensuring seamless guest experiences.
Lock issues (for Guesty Locks Manager users): Keep track of lock-related problems and swiftly address them. Access the lock issues page for a comprehensive overview and resolution.
With the new home page, Operation-level users can harness the power of real-time data, intuitive navigation, and proactive management tools. Stay ahead, stay informed, and deliver exceptional hospitality with the new home page.