Nightly Rates is the total guest payout amount for each individual night of the reservation. You can view your reservation's accommodation fare and non-accommodation line items, such as fees and taxes, broken down per night in the Guest Folio Breakdown. Read more below.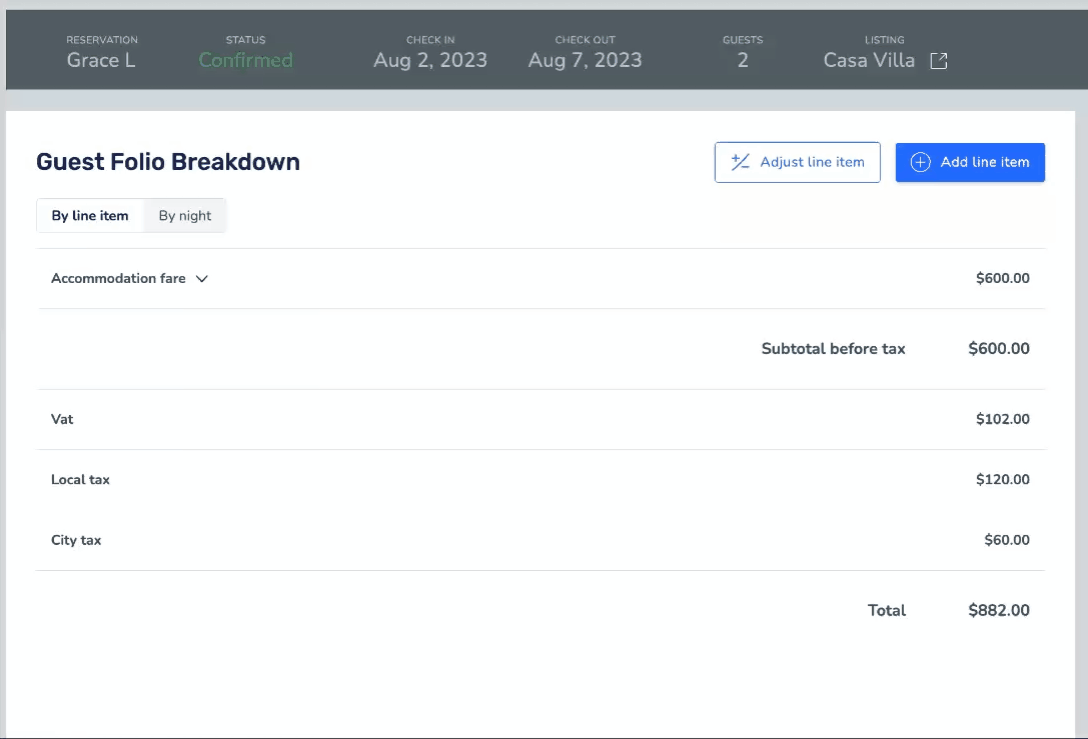 Note:
Once a reservation is booked, nightly rates cannot change. The only situation in which the existing nightly rates of the reservation may change is when the nightly rates are updated from a booking channel for future dates.
To view nightly rates, follow the steps below.
ֿ
Step by step:
Tip:
Beta navigation users, please note that the steps below refer to the navigation as seen in the Legacy mode. Read more here about locating menu items in the new navigation.
Sign in to your Guesty account.
In the top menu, click Reservations.
Click the relevant reservation.
In the top gray menu, click on Balance Due.
In the Guest Folio Breakdown, click By line item or By night.
If you select By line item, click the downward arrow next to Accommodation fare and non-accommodation fare items to see the nightly rates.
If you select By night, choose the relevant nights in the calendar to see the nightly rates breakdown.
Tip:
You can include the breakdown of Nightly Rates in your Guest Invoice. In your Guest Invoice Settings, make sure the Nightly Rates toggle is turned on under "Guest Folio Settings."
How does it work?
Nightly Rates Received From Channels
Currently, Booking.com and Expedia are the only booking channels that send us nightly rates and we display these nightly rates in the Guest Folio Breakdown with the ratios defined by the booking channel.
Nightly Rates Calculated in Guesty
When nightly rates are not received by booking channels, Guesty checks the pricing that was set on the calendar for the listing's reservation dates. We then apply the same ratio to the nightly rates of the reservation.
Non-accommodation fare items
We calculate the non-accommodation fare total divided by the number of nights in the reservation and show nightly rates for these items on a "per night" or "per night per stay" basis. Otherwise, they are displayed as one sum. 
For Accounting users, we always calculate the nightly rates for non-accommodation fare line items so it can be used for "nightly" recognition if this setting is defined in the business model.
Nightly Rates example
As an example, let's look at a reservation for three nights.
The calendar rates for each night are:
Night 1: $100
Night 2: $150
Night 3: $250
The ratio rates for each night are: (Calendar rate / total accommodation fare):
Night 1: 0.2
Night 2: 0.3
Night 3: 0.5
Then calculate the nightly rate price according to accommodation fare and nightly ratio rates:
Night X = Accommodation fare * night X rate ratio
In our example we'll use $650 as our accommodation fare:
Night 1 = 0.2 *650 = $130
Night 2 = 0.3 * 650 = $195
Night 3 = 0.5 * 650 = $325